Serenaker Beagles & Pharaoh Hounds
This page features my special boy CH. SAMWELLA LUTHER OF SERENAKER, he was my first Champion and he was also the first Champion bred by his breeder Mrs Pam Williams of Fareham in Hampshire. Against all the odds (including being a Tan & White Dog !!)he showed his heart out for me at all times, and never let me down.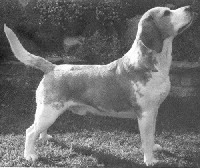 Luther`s wins came at:-
Dog CC Bournemouth 1986 - Judge Mr Ted Turner
Dog CC 4 Counties Beagle Club 1987 - Judge Mrs Sylvia Tutchener
Dog CC Scottish Kennel Club August 1989 - Judge Mrs Jean Westren
Reserve Dog CC Birmingham National 1987 - Judge Mrs Veronica Bradley
Reserve Dog CC Devon & Cornwall Beagle Society 1987 - Judge Mrs Daphne Ayland
Reserve Dog CC Welsh Kennel Club 1988 - Judge The Late Mr Bobby James
Luther was a dog in a million, he came to us at 15 months of age and left us all to soon at 12½ years of age. For the last 6 years of his life he was spoilt rotten by my parents Gary & Janet Parker, who are my much appreciated backroom support team.
Another favourite of mine is Norcis Cornriggs, again a Tan & White dog but this one was so very headstrong!. We retired him at 3 years old after an accident put paid to his show career just as he was reaching his peak.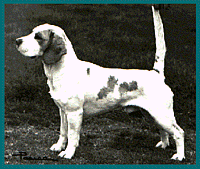 Bondlea Piper of Serenaker, my first "proper" showdog, he won well at open shows & qualified for the KCJO finals at Crufts.
Another favourite sadly no longer with us is Louis (Deanound Tonnerre of Serenaker), he was my first PBGV & such a showman, in his brief career he won RDCC Crufts '98 - Mrs J. Walker, RDCC Bath '99 - Mrs S. Roberts, RBD Leeds '99 -Mrs Brenda Banbury & RBD Midland Counties '99 -Mrs Rose Phillips. We thank his breeders Yvonne Dean & Claire Gutherless for allowing us the honour of being owned by Louis.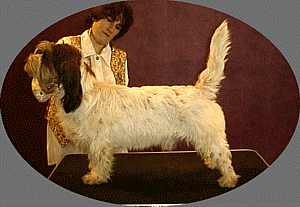 Deanound Tonnerre of Serenaker