Serenaker Beagles & Pharaoh Hounds
Welcome to our Puppies page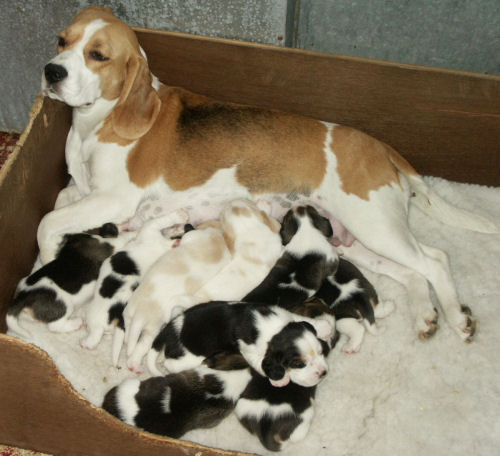 Charlie & her babies
WE DO NOT HAVE ANY PUPPIES AVAILABLE & WE ARE NOT PLANNING A LITTER UNTIL SUMMER 2021 (WE WILL NOT BE TAKING NAMES ON A WAITING LIST UNTIL THEN)
PLEASE READ THIS IMPORTANT INFORMATION
Please be careful who you contact, there are a lot of scams in place at the moment. Most genuine breeders will not be charging much more than £1000, some puppy farmers are charging up to £2500 as the supply for pups cannot be easily met. Also beware not all licensed breeders are what they seem, puppy farms are registered with their local council & can still register pups with the KC. The breed clubs (shown on the KC website) are the best form of recommendation for a breeder.
I am sure you have done your research, but please see the information below to help you decide if a beagle is the breed for you.
Well bred, well reared, health tested Beagle puppies are few and far between, but it is recommended that should wait to buy from a reputable breeder.
Beagles are a relatively healthy breed, they are easy to feed & look after, however they are not the easiest breed in the world to train. They should not be left by themselves for a long period of time & you must have a secure, well fenced garden. It is not recommended that they allowed off lead when walked as being a hound breed they will come back when they want & not necessarily when you want them to. They are a very active breed of dog, so a quick walk around the block will not suffice, they do need a lot of exercise to keep them healthy.
They are good with children, & if reared with a cat from the start there should be no problems. You must be a very strong willed person to live with a Beagle as they do need strict training for them to become a welcome part of the family.
Prices for a puppy start at £1000 for this price you should receive Kennel Club registration (Please note there is NO other recognised registration other than the Kennel Club - any other form of registration papers offered are not worth the paper they are printed on), a puppy pack, a starter pack of food & usually 4 weeks free insurance. Also for this price the parents must have been DNA tested for the 3 main hereditary conditions.
Please check that the breeder has had the relevant DNA tests carried out on the parents for the hereditary diseases NCCD, Lafora & MLS. If an advert states that the pups will have had a health/vet check this IS NOT the same as parental DNA testing! Most reputable breeders will ask to meet you before you purchase a puppy & will ask you to contact them with any problems you have with the puppy.
I hope this information has been of some help to you.